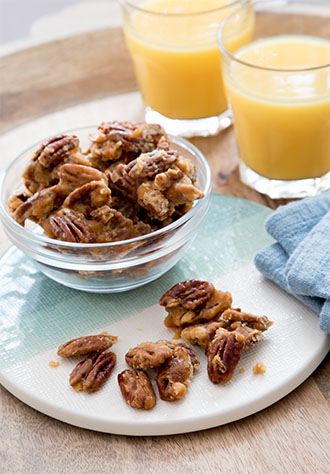 Candied Orange Pecans
What's cooking
Somewhere next to the low-fat turkey sandwich and the side of celery sticks, you ought to pack at least one sweet treat in your kids' lunch boxes. Surprise them with Candied Orange Pecans—an easy-to-make snack-time treat.
Ingredients
2 cups sugar
3/4 cup Florida's Natural® Orange Juice
1 tablespoon grated orange peel
3 cups pecan halves
Instructions
Mix orange juice and sugar in a 2-quart saucepan. Bring to a boil over medium heat. Reduce heat and cook for about 15 to 20 minutes, to the soft-ball stage (235° F as per a candy thermometer). Be sure not to overcook. Remove from heat. Add orange peel and pecans. Stir until mixture turns a creamy color, about 7 to 10 minutes. Pour onto waxed paper. When cool, break apart and store in an airtight container.
Makes 3 cups
Recipe from Rodale, © Copyright 2005