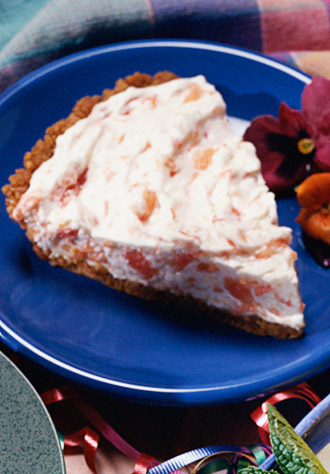 Chilled Fresh Florida Grapefruit Pie
What's cooking
Submitted by Fidelia Varn Jahna, Peace River Packing Company
The Florida Keys gave us key lime pie. But we growers here in central Florida love this grapefruit variation. After all, nothing's sweeter than using fruit you grew yourself.
Ingredients
1 & 1/2 cups Florida grapefruit sections, cut into pieces, juice reserved
1 cup sugar
1 envelope unflavored gelatin
1/4 cup cold water
1 cup heavy cream
2 tablespoons confectioner's sugar
1/2 teaspoon vanilla extract
One 9-inch graham cracker pie shell
Instructions
Combine fruit and sugar. Let stand 5 minutes.
Drain fruit, reserving 1 cup of juice. Set fruit aside.
Bring juice to a boil.
Sprinkle gelatin over cold water to soften, and add to hot juice.
Stir until dissolved.
Chill the gelatin mixture until slightly thicker than the consistency of unbeaten egg whites.
Beat cream with confectioner's sugar and vanilla until stiff.
Fold whipped cream and fruit into gelatin mixture.
Turn into pie shell and chill.