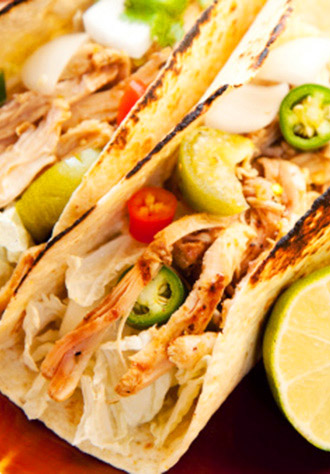 Chicken Tacos with Charred Salsa
What's cooking
Fire up the grill, amigo, and get this party started! Charred salsa and our zesty marinade make these tacos terrific.
Main Ingredients
4 boneless, skinless chicken breasts
Eight 6-inch flour or corn tortillas
Charred Salsa Ingredients
8 ripe Roma tomatoes
2 seeded jalapeño peppers
2 small red onions, halved
1/2 teaspoon salt
2 tablespoons lime juice
Zest of 1 orange
1/4 cup chopped cilantro
Marinade Ingredients
1/4 cup Florida's Natural® Orange Juice
2 tablespoons olive oil
3 garlic cloves, finely chopped
1/2 teaspoon salt
Instructions
Have coals or grill ready with hot flames.
In a medium bowl, stir together juice, oil, garlic and 1/2 teaspoon salt. Marinate chicken for 15 minutes. Meanwhile, grill tomatoes, jalapeño peppers and onions on grill rack. Grill, turning occasionally, for 5 minutes, until charred. Set aside.
Grill chicken breasts for 12 to 15 minutes, turning once. Meanwhile, chop tomatoes, seeded jalapeno peppers and onion. Season with 1/2 teaspoon salt, lime, orange zest and cilantro.
Serve chicken breasts with warm tortillas and salsa.