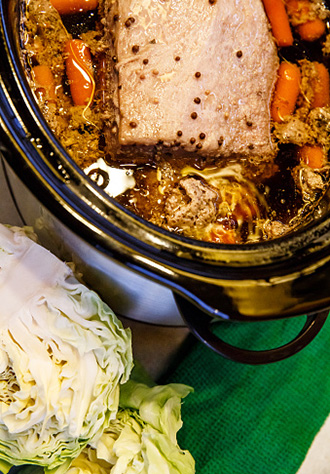 Crockpot Corned Beef and Cabbage
What's cooking
No St. Patrick's Day dinner is complete without this Irish-American favorite. Flavor up the tradition with the great taste of oranges. Our juice is all you need to turn this classic into a family favorite.
Ingredients
12 baby-cut carrots
2 medium onions, quartered
2-3 pounds corned beef brisket
1/2 cup Florida's Natural® Orange Juice
1 cup water
3 whole cloves
2 crushed garlic cloves
1/2 head of cabbage, cut into wedges
Instructions
This recipe makes the preparations a bit easier by using a slow cooker to cook both the beef and the cabbage.
Put all ingredients, except for the cabbage, in the slow cooker. Cover and cook on low for about 8 hours (about 5 hours on high). Add cabbage, cover and cook for 1 more hour, or until tender.
Serves 6-8