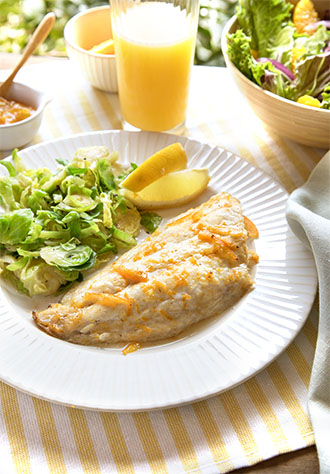 Honey Orange Glazed Florida Grouper
What's cooking
Courtesy of Fresh From Florida
Kick back while this simple, tangy glaze makes your grouper great. Brush, broil, then bask in all the applause you'll receive from your dinner guests.
Ingredients
1 tablespoon honey
1 tablespoon orange marmalade
1 tablespoon Florida's Natural® Orange Juice
3/4 teaspoon Dijon mustard
1/2 teaspoon light soy sauce
1/8 teaspoon ground white pepper
3/4 pound grouper fillets
Instructions
Preheat broiler.
Combine all ingredients except grouper, mixing well.
Place fillets on an oiled broiler pan and brush fillets with honey glaze to cover.
Broil 5 to 6 inches from heat for 4 to 5 minutes, until browned. Turn fillets, brush with honey glaze and broil an additional 5 minutes, or until the fish flakes easily.