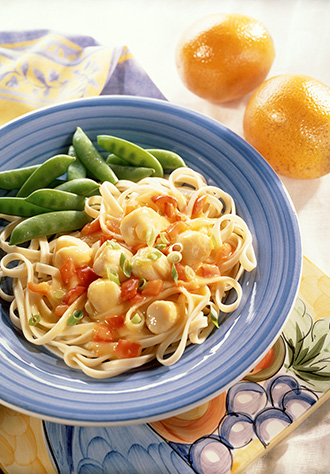 Orange Scallops Over Pasta
What's cooking
An easy weeknight dinner that only tastes like you fussed. Maybe it's the way orange juice gets along with seafood that makes it taste so fancy. Don't worry—your secret's safe with us.
Ingredients
8-ounce package linguini or fettuccine
12 ounces sea scallops
1 large red bell pepper, chopped
1 tablespoon olive oil or cooking oil
1 cup Florida's Natural® Orange Juice
1/3 cup chicken broth
4 teaspoons cornstarch
Dash to 1/8 teaspoon ground red pepper
2 tablespoons sliced green onion
Instructions
Cook pasta according to package directions. Drain and keep warm. Meanwhile, cut any large scallops in half. In a large skillet, cook scallops and bell pepper in oil for 2-3 minutes, or until scallops are opaque and pepper is crisp-tender. In a bowl, stir together the orange juice, broth, cornstarch and ground red pepper. Add to skillet. Cook and stir until thickened and bubbly. Cook and stir 2 minutes more. Serve scallop mixture over pasta; sprinkle with green onions.
Serves 6