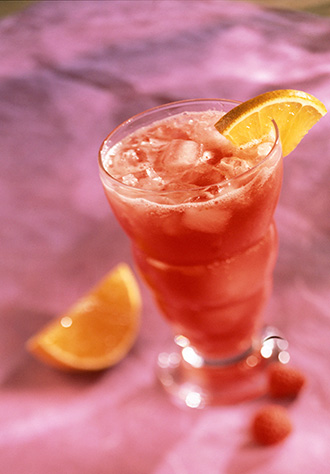 Grapefruit Sparkle
What we're mixing up
We love the way raindrops sparkle in our citrus groves. Maybe that's why we get such a kick out of "grapefruit sparkle" when we come back inside.
Ingredients
One 10-oz. package frozen red raspberries in syrup, thawed
1/2 cup cold water
1 cup Florida's Natural® Ruby Red Grapefruit Juice
2 tablespoons grenadine
One 1-liter bottle club soda, chilled
Ice cubes
Orange slices (optional)
Instructions
In a blender, combine raspberries and water.
Cover and blend until pureed.
Sieve to remove seeds.
In a pitcher, combine the raspberry mixture, Ruby Red Grapefruit Juice and grenadine.
Cover and chill.
Just before serving, gently stir in club soda.
Serve over ice.
If desired, garnish with orange slices.