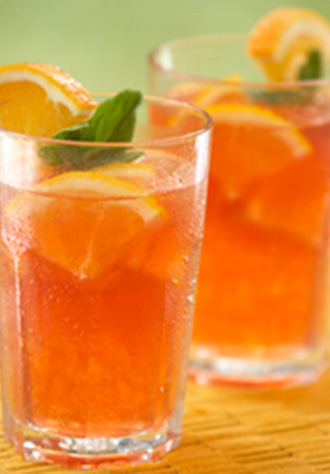 Orange Holiday Punch
What we're mixing up
Punch and holidays go together. Just like Florida's Natural® orange, apple and cranberry juices. Here's a great way to celebrate with a drink that's fun and festive.
Ingredients
4 quarts water
3 cups sugar
2 quarts Florida's Natural® Orange Juice
1 & 1/2 quarts Florida's Natural® Apple Juice
1 quart Florida's Natural® Cranberry Juice Cocktail
1/2 cup lemon juice
1/2 cup lime juice
Ice Ring Ingredients
Orange slices
Lime slices
Fresh cranberries
Sprigs of fresh mint
Instructions
Bring water and sugar to a boil. Let cool and then combine with other ingredients. Stir well and chill for at least 2 hours before serving. Makes about 2 gallons of punch. For a festive added touch, float a decorative ice ring and a quart of vanilla ice cream on top of the punch.
To make an ice ring, arrange orange and lime slices, fresh cranberries, and sprigs of fresh mint in the bottom of a ring mold. Add only enough water to cover the fruit and freeze until just solid. Then fill the rest of the mold with cold water and freeze until fully solid. To remove from mold, dip briefly in warm water and then gently invert into punch bowl.