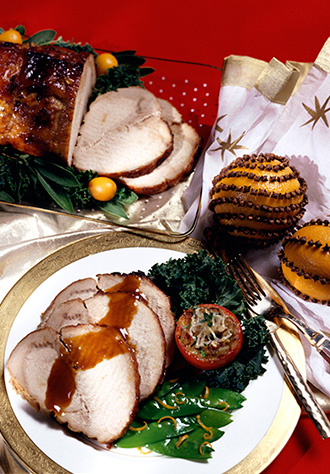 Christmas Pork Roast
What's cooking
Submitted by W.T. Simpson, Jr. and Karen Simpson, Waverly Growers Cooperative
When you've got a crowd to feed and a holiday to celebrate, this roast is like a gift from the oven. Festive and flavorful, it's a family tradition for many of us growers.
Ingredients
5-6 pounds boneless center pork loin
1 garlic clove
2 fresh oranges, sliced
1/2 cup dark rum
2 cups Florida's Natural® Orange Juice
1 peeled onion, chopped
1 jar orange marmalade
1 tablespoon Kitchen Bouquet
Instructions
Thoroughly brown all sides of the pork loin. Cut garlic clove into slivers. Cut small slits in meat and insert slivers. Mix orange juice and rum together. Press roast in large Ziplock bag with orange juice and rum. Marinate for 3-4 hours.
After marinating, place the pork loin in a pan with marinade juices and onion. Salt and pepper pork loin. Spread generously with marmalade. Cover with orange slices secured with toothpicks. Roast at 350° F for 3 hours.
Baste the roast after the first hour, and do so again every 20 minutes. After the second hour, add Kitchen Bouquet. Allow the roast to rest for 15 minutes before carving. Remove toothpicks and orange slices. Serve with pan juices.
Serves 8-10