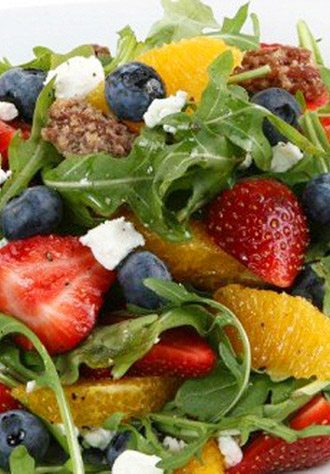 Arugula and Florida Berry Salad with Candied Pecans
What's cooking
Courtesy of Fresh From Florida
The peppery notes of arugula make a wonderful backdrop for this colorful, fruity salad. Everything about it says, "Ah, summer!"
Salad Ingredients
16 ounces arugula, rinsed and drained
1 dozen Florida strawberries, rinsed, hulled and sliced
1 cup Florida blueberries
2 oranges, peeled and segmented
8 ounces goat cheese, crumbled
1 lemon, juiced
1 tablespoon olive oil
Sea salt to taste
Fresh-ground pepper to taste
Candied Pecans Ingredients
2 cups Florida pecans
3/4 cup natural Florida sugar
1/2 teaspoon sea salt
Salad Instructions
In a medium-sized mixing bowl, add arugula, lemon juice and olive oil. Lightly toss the arugula to coat, and season lightly with salt and pepper.
Serve on four chilled plates. Add an even amount of the dressed arugula to the center of each plate. Arrange an even amount of citrus, blueberries and strawberries in a decorative manner on each plate. Evenly distribute the crumbled goat cheese over the top of each salad. Garnish each salad with a few of the candied pecans. Serve chilled.
Candied Pecans Instructions
Heat oven to 400° F.
Spread the nuts onto a baking sheet and toast, tossing once, until fragrant, 6 to 8 minutes; transfer to a bowl. Once the baking sheet is cool, line it with parchment paper.
In a large skillet, combine the sugar, salt and 2 tablespoons water. Simmer, swirling the pan occasionally (do not stir, as this will crystallize the caramel), until the liquid is amber-colored, 12 to 15 minutes. Stir in the nuts, and then spread the mixture onto the prepared baking sheet, separating the nuts as much as possible. Let cool. Break up any large clusters before serving.