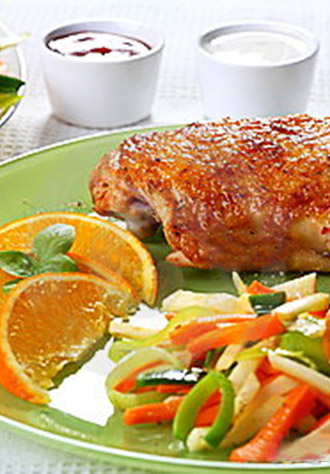 Barbecued Chicken with Orange Garlic Sauce
What's cooking
There's no match for chicken barbecued on a grill. Of course, the secret's in the sauce, featuring Florida's Natural® Orange Juice, garlic and a touch of honey.
Barbecued Chicken Ingredients
Chicken breasts, thighs and/or legs (about 2 pounds)
Salt and pepper to taste
Paprika
Orange Garlic Sauce Ingredients
3/4 cup Florida's Natural® Orange Juice
3 tablespoons garlic paste
1/3 cup vegetable oil
1/4 cup honey
1 teaspoon lime juice
1 teaspoon paprika
1/2 teaspoon hot sauce (optional)
Instructions
Combine all of the sauce ingredients, mix and set aside.
Sprinkle chicken with salt, pepper, and paprika, and place on the grill over medium heat.
After about 5 minutes, turn the chicken and brush on sauce.
Continue to turn, basting chicken with sauce as it cooks.
After the chicken is done (i.e. reached 180° F internally), remove from heat and brush one more time with orange sauce before serving.