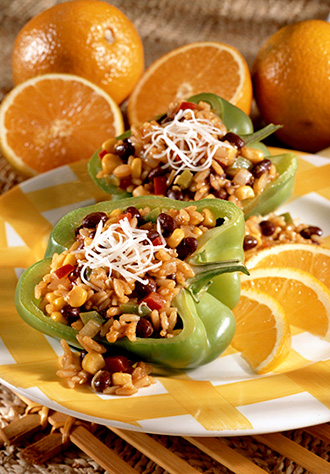 Black Bean Stuffed Peppers
What's cooking
This recipe for stuffed peppers is vegetarian-friendly, with a hearty protein mix of black beans and rice. The extra tangy-sweet flavor of Florida's Natural® Orange Juice makes this dish a real treat.
Ingredients
4 large green bell peppers
1 cup chicken broth
3/4 cup orange juice reduction*
1/2 cup chopped onion
1/2 cup long grain rice
2 teaspoons chili powder
One 15-ounce can black beans, rinsed and drained
One 11-ounce can whole kernel corn with peppers, drained
3/4 cup shredded reduced-fat Monterey Jack cheese (3 ounces)
Orange wedges (optional)
Instructions
*In a small pan, bring 1 & 1/2 cups of Florida's Natural® Orange Juice to a boil; reduce heat and simmer until half the liquid—3/4 cup—remains. Let cool slightly.
Fill a Dutch oven about half full of water; bring to a boil. Halve peppers lengthwise, removing seeds and membranes. Add peppers to boiling water and return to a boil; reduce heat. Cover and simmer for 4 to 5 minutes, or until peppers are just tender. Drain peppers.
Meanwhile, in a medium saucepan, combine broth, orange juice reduction, onion, uncooked rice and chili powder. Bring to a boil; reduce heat. Cover and simmer for about 20 minutes, or until rice is tender. Stir in beans and corn. Stir in most of the cheese; toss to mix.
Fill peppers with rice mixture. Place in a 3-quart rectangular baking dish. Bake, uncovered, in a 400° F oven for about 25 minutes, or until heated through. Sprinkle with remaining cheese. If desired, garnish with orange wedges.
Serves 4