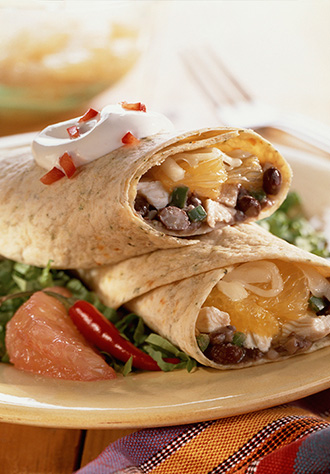 Black Bean Burritos with Citrus
What's cooking
A great fiesta starts with black bean burritos. And don't forget to invite some Florida's Natural® Orange Juice to your skillet.
Ingredients
Eight 7- to 8-inch flour tortillas
1/2 cup frozen chopped onion
1 tablespoon cooking oil
One 15-ounce can black beans, rinsed and drained
1/4 cup Florida's Natural® Orange Juice
1 fresh jalapeño pepper, seeded and finely chopped*
3 citrus fruits (tangerines, tangelos or oranges), peeled, sectioned and seeded
1 cup shredded Monterey Jack cheese (4 ounces)
6 ounces chopped cooked chicken or turkey (optional)
Shredded spinach (optional)
Sour cream for topping (optional)
Chopped peppers for garnish (optional)
Citrus sections for garnish (optional)
Instructions
Stack tortillas and wrap them tightly in foil. Heat in a 350° F oven for 10 minutes to soften.
Meanwhile, in a large skillet, cook onion in hot oil over medium-high heat for 3-4 minutes, or until tender. Remove from heat. Add beans, orange juice and jalapeño (if desired). Using the back of a wooden spoon, mash beans in skillet.
To assemble, spread some of the bean mixture down the center of each tortilla. Top with some of the chicken, fruit sections and cheese. Fold in both sides of tortilla to overlap filling. Fasten each with a wooden toothpick. Arrange, toothpick side up, on a baking sheet. Cover with foil. Bake in a 350° F oven for 12 to 15 minutes, or until heated through. Discard toothpicks. Cut each burrito in half. If desired, serve on shredded spinach, top with sour cream, and garnish with chopped peppers and citrus sections.
*Fresh peppers add great flavor, but wear plastic or rubber gloves when preparing them to avoid direct contact and possible burning of skin and eyes. If your bare hands touch peppers, wash hands with soap and water. Avoid touching your mouth, nose, eyes or ears when working with peppers.
Serves 4-8