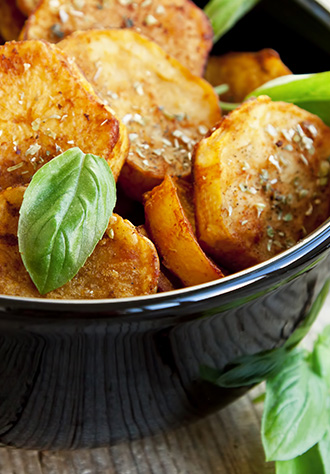 Orange and Ginger Glazed Sweet Potatoes
What's cooking
Full of health benefits, this delicious side dish often takes center stage on our holiday tables.
Ingredients
4 to 6 sweet potatoes
3 cups Florida's Natural® Orange Juice
2 cups brown sugar
1 teaspoon powdered ginger
1/4 teaspoon nutmeg
1/2 teaspoon cinnamon
1/8 teaspoon white pepper
1/3 cup water and 1/3 cup cornstarch, combined
Instructions
Cut sweet potatoes into cubes and boil until tender.
Bring orange juice, brown sugar and spices to a boil.
Mix cornstarch and water together, and stir until completely dissolved.
Slowly add cornstarch mixture to the boiling orange juice solution and stir until thickened.
Pour orange juice glaze over sweet potatoes and mix. Bake at 375° F until heated through.