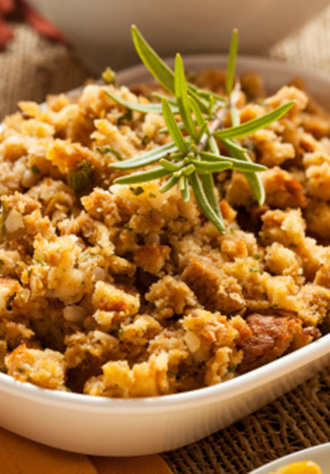 Orange-Sage Cornbread Stuffing
What's cooking
Combining the distinctive flavors of orange and sage makes this stuffing a celebration for everyone's taste buds. You'll want to make this dish for many holidays to come.
Ingredients
2 tablespoons butter
1 tablespoon olive oil
3/4 cup chopped celery
3/4 cup leeks, cleaned and chopped
1 tablespoon garlic, chopped
2 & 1/2 tbsp. fresh sage, chopped
1/2 teaspoon ground pepper
1/4 teaspoon ground cumin
1/8 teaspoon salt
3/4 cup vegetable or turkey stock
1/4 cup Florida's Natural® Orange Juice
5 cups cornbread (or corn muffins), crumbled
Instructions
In a large skillet, melt butter and then add olive oil, celery, leeks and garlic.
Sauté for a few minutes, until celery and leeks are tender, and mix in sage, pepper, salt, and cumin.
Turn off heat and add vegetable stock, orange juice, and crumbled cornbread.
Mix until cornbread is moist and transfer into a shallow baking or casserole dish.
Bake at 325° F for 1 hour.
Serves 8-10