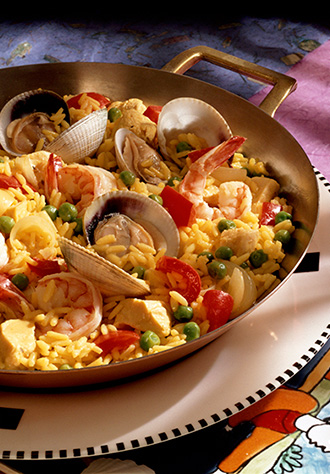 Paella
What's cooking
It's believed that Ponce de León brought the first orange seeds to Florida. So we figure the Spanish explorer enjoyed his paella with a touch of orange juice, just like we do.
Ingredients
6 ounces fresh or frozen medium shrimp in shells, peeled and deveined
8 small clams in shells, rinsed
2 cups chicken broth
1 cup long-grain rice
1 small onion, cut into thin wedges
1/2 teaspoon dried Italian seasoning, crushed
1/4 teaspoon garlic pepper or 1/8 teaspoon garlic powder plus 1/8 teaspoon ground pepper
Pinch ground saffron (optional)
12 ounces skinless, boneless chicken breasts
1 cup Florida's Natural® Orange Juice
1 small red bell pepper, cut into 3/4-inch squares
1 cup frozen peas, thawed
Instructions
Thaw shrimp, if frozen. Rinse and scrub clams under cold running water. Soak clams in a large bowl with 8 cups water and 3 tablespoons salt for 15 minutes; drain and rinse. Discard water and repeat soaking procedure two more times. Before cooking, discard any clams that don't close their shells when lightly tapped.
In a large skillet or Dutch oven, combine broth, uncooked rice, onion, Italian seasoning, garlic, pepper and, if desired, saffron. Bring to a boil; reduce heat. Cover and simmer for about 15 minutes, or until rice is just tender.
Rinse chicken; pat dry with paper towels. Cut chicken into 3/4-inch pieces. Stir chicken, shrimp, clams, orange juice and red pepper into rice in skillet. Bring just to boiling; reduce heat. Cover and simmer for about 5 minutes more, or until shrimp turn pink, clams open and chicken is done. (Discard any unopened clams.) Stir in peas; let stand for 1 minute.
Serves 4