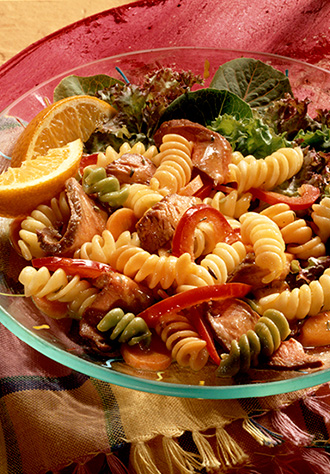 Sirloin-Citrus Salad
What's cooking
This is the perfect make-ahead picnic salad. Citrus-infused, tangy dressing brings out the flavor of sirloin. Pasta, veggies and greens add summertime color.
Ingredients
8 ounces boneless beef sirloin steak, cut 1 inch thick
1 & 1/3 cups packaged dried tricolor rotini (or other macaroni)
1 & 1/2 cups bias-sliced carrots
1 & 1/2 medium red or green bell peppers, cut into bite-size strips
3/4 cup orange juice reduction
4 teaspoons salad oil
1 teaspoon Dijon-style mustard
1/2 teaspoon dried thyme, crushed
1/8 teaspoon pepper
8 cups torn mixed salad greens
Orange wedges (optional)
Instructions
*In a small pan, bring 1 & 1/2 cups of Florida's Natural® Orange Juice to a boil; reduce heat and simmer until half the liquid—3/4 cup—remains. Let cool.
Slash fat on the edges of steak at 1-inch intervals, being careful not to cut into the meat. Place the steak on the unheated rack of a broiler pan. Broil 3 inches from the heat for 6 minutes. Turn and broil for another 6 to 8 minutes (more for medium doneness).
Cool slightly and cut into thin slices. Place meat in a deep bowl. Add cooked pasta, carrot slices and pepper strips.
Combine orange juice reduction, salad oil, mustard, thyme, garlic powder, and pepper in a screw-top jar and shake well. Pour dressing over meat, pasta and vegetables. Toss gently to coat. Cover and chill for 6 to 24 hours, stirring occasionally.
Divide greens among individual plates. Spoon meat and pasta mixture on top; garnish with orange wedges.
Serves 5