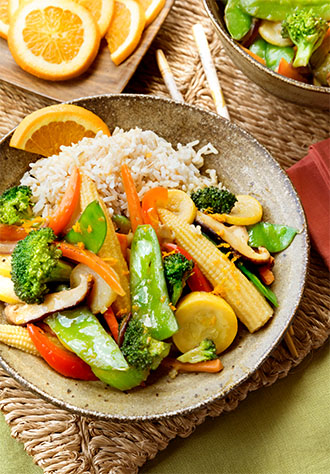 Stir-Fry with Orange Juice Sauce
What's cooking
Here's a perfect weekday dinner recipe. It's full of colorful vegetables mixed with a healthy sauce, and it's a cinch to prepare.
Sauce Ingredients
1 cup Florida's Natural® Orange Juice
1 tablespoon soy sauce
2 tablespoons cornstarch
1 teaspoon chopped ginger
1 teaspoon garlic paste
Stir-Fry Ingredients
2 tablespoons canola oil
1/4 onion, thinly sliced
1/2 cup sliced carrots
2 stalks celery, chopped
1/2 cup sliced yellow squash
1/2 cup chopped broccoli
1/4 cup snow peas
1 cup fresh mushrooms, rinsed and sliced
1 red pepper, thinly sliced
1/4 cup baby corn
4-ounce can sliced water chestnuts, drained
Garnish Ingredients
2 tablespoons orange zest
Orange slices
Instructions
Prepare the sauce by mixing together the orange juice, soy sauce, cornstarch, ginger and garlic paste.
Set aside. Heat 1 tablespoon oil in a large skillet or wok.
Stir-fry the onion, carrots and mushrooms for 1 minute over high heat.
Add the squash, broccoli, and snow peas and cook for about 2 minutes.
Add remaining vegetables and cook until red pepper is tender.
Stir sauce and add to skillet.
Simmer until sauce has thickened.
Serve immediately over rice or noodles, and garnish with orange zest and orange slices.
Serves 4