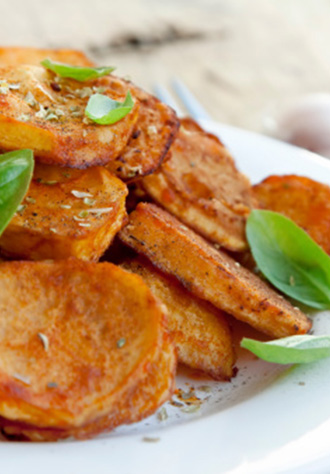 Elegant Sweet Potatoes
What's cooking
Bring this grown-up side dish to your next holiday table or potluck dinner, and watch it disappear. We growers also love the mouthwatering color: orange.
Ingredients
2-3 large yams or sweet potatoes, cooked, peeled and cut into 1-inch slices
1/2 cup chopped nuts (walnuts, pecans, filberts or macadamias)
1/2 stick butter or margarine, cut into small pieces
1/2 cup dark brown sugar, packed
3/4 teaspoon salt
2 teaspoon cornstarch or 1 teaspoon arrowroot
1-2 ounces orange liqueur: Grand Marnier®, curaçao, triple sec, etc. (optional)
1 & 1/2 cups of Florida's Natural® Orange Juice
Instructions
Preheat oven to 350° F.
In a buttered casserole dish, layer sliced sweet potatoes and chopped nuts.
Dot with butter or margarine.
Combine remaining ingredients in a small saucepan and stir over medium heat until sauce thickens.
Pour sauce over sweet potatoes, cover casserole dish and bake at 350° F for 25 to 35 minutes.
Serves 6