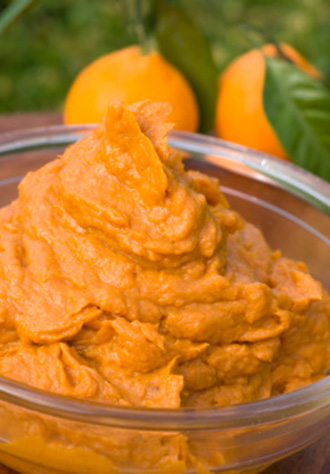 Orange Mashed Sweet Potatoes
What's cooking
You'll please every mashed potato lover this Thanksgiving by serving this delicious, lightly spiced sweet potato delight.
Ingredients
3 pounds sweet potatoes, peeled and quartered
4 ounces cream cheese
1/2 cup Florida's Natural® Orange Juice
1/4 cup warmed milk
1/4 cup light brown sugar
1/2 teaspoon ground cinnamon
1/4 teaspoon ground ginger
Orange zest and candied ginger for garnish
Instructions
Put sweet potatoes in a large pot, cover with water and bring to a boil.
Cook until potatoes are tender and then drain water.
In a large bowl, combine potatoes, cream cheese, orange juice and milk.
Slowly mash together with a potato masher or fork until all lumps are gone.
Mix in brown sugar, cinnamon and ginger.
Serve with a little orange zest and candied ginger on top.
Serves 12