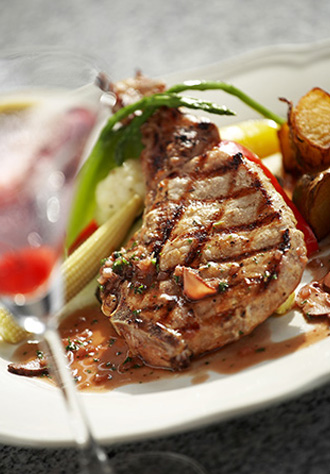 Florida's Natural Steak Sauce
What's cooking
What's the perfect companion to grilled steaks and burgers? A savory, tangy homemade steak sauce featuring Florida's Natural® Orange Juice. Naturally.
Ingredients
1/2 cup Florida's Natural® Orange Juice
1/4 teaspoon each ground allspice, cloves and cinnamon
1/4 cup red wine vinegar
1/4 cup balsamic vinegar
1/2 cup soy sauce
1 teaspoon garlic paste
1/2 tsp. horseradish
1 & 1/4 cups tomato puree
Optional: 2 teaspoons hot sauce
Instructions
Pour tomato puree into a large skillet and start heating on medium. Add the rest of the ingredients to the tomato puree, mixing each ingredient in separately. Allow the sauce to bubble, and begin stirring constantly for about 10 minutes, or until the sauce thickens.
Serve with a perfectly grilled steak or on hamburgers. Also makes a nice accompaniment to thick-cut french fries or onion rings.
Serves about 3 cups