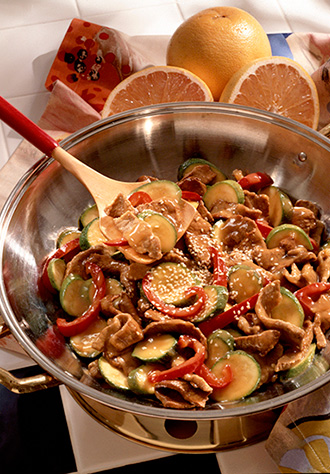 Pork Grapefruit Stir Fry
What's cooking
This lean pork dish is so easy, you may be tempted to give up Chinese takeout altogether. Serve it with fortune cookies, for full effect.
Ingredients
1 & 1/2 pounds lean boneless pork
1 & 1/2 cups Florida's Natural® Ruby Red Grapefruit Juice
3 tablespoons soy sauce
2 tablespoons cornstarch
1 tablespoon honey
1/2 teaspoon ground ginger
1 tablespoon cooking oil
3 cups sliced zucchini
1 medium red or green bell pepper, cut into bite-size strips
1 tablespoon sesame seeds, toasted
3 cups hot cooked rice
Instructions
Trim fat from pork. Partially freeze pork. Thinly slice pork across the grain into bite-size strips; set aside.
For sauce: In a bowl, stir together grapefruit juice, soy sauce, cornstarch, honey, and ginger; set aside.
Pour oil into a 12-inch skillet. Preheat over medium-high heat. Add zucchini and pepper strips; stir-fry for 2-3 minutes or until vegetables are crisp-tender. Remove vegetables and set aside.
Add half of the pork to the skillet. Stir-fry for 2-3 minutes or until no pink remains (if necessary, add more oil, 1 teaspoon at a time, to prevent sticking during cooking). Remove pork and repeat with the other half. Return all pork and vegetables to the skillet. Push from center of skillet. Stir sauce and add to center of skillet. Cook and stir until thickened and bubbly. Stir all ingredients together to coat with sauce. Sprinkle with toasted sesame seeds. Serve over rice.
Serves 6